Deck Painting, Sealing, Washing & Deck Staining Paoli
Appalachian Deck Staining & Power Washing continues to enjoy working with the residents of Paoli, PA. The appreciative and satisfied customers we have for deck staining Paoli is so numerous we have decided to create a specific web page to show off some of those beautifully finished decks.
Of course, we do all kinds of deck work in the surrounding towns and within a large radius of Paoli however, this page is dedicated to those customers in Paoli, Pennsylvania.
Paoli Deck Staining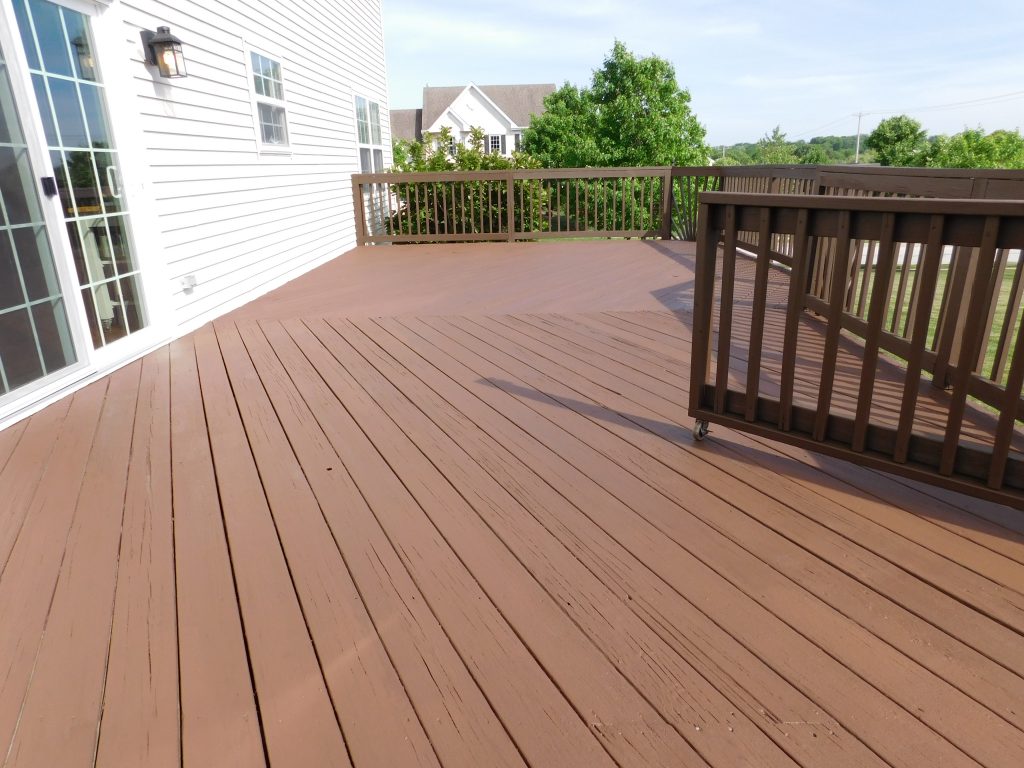 Appalachian Deck Staining and Painting Services has been serving the local areas for years now.
Whether you need to apply a deck stain or other protective wood and composite coatings to your wood or composite deck, or just need a thorough pressure wash and cleaning we have a well-thought-out solution accompanied by years of experience for the beautification and longevity of your wood and composite decking.
Is your wood deck or composite deck so filthy you mistake it for bad or rotted decking? Not so fast! You may just require a thorough gentle pressure washing accompanied by the proper cleaners, detergents, and emulsifiers to bring your wood and composite deck back to life…saving you thousands in wood deck rebuilding costs! Once we rid your wood or composite deck of fungus/mold, "the black stuff", algae and mildew, "the green stuff", Pressure washing is NOT a blasting process. It is a tool to apply the proper cleaners which do the bulk of the work cleaning your wood deck followed by an efficient, gentle rinse. you'll see why deck board replacement may be unnecessary. Our deck cleaning process followed by an application of premium acrylic stain or a rich oil wood deck stain may just be the solution required for a beautiful and healthy wood deck again.
If you currently have an acrylic wood deck stain on your deck it is as simple as an effective wash, sanding for proper adhesion, followed by a rich, premium acrylic deck stain. Your wood deck boards never been stained before or you have pressure treated wood? You may want to choose a rich-looking, deep-penetrating oil stain. Oil stains have several benefits also such as a beautiful, natural wood looking finish, no peeling, and simple application once the old oil deck stain has dried out. Acrylic deck stains also have some beautiful transparent deck stain finishes also. For those who have a compromised or peeling deck, you may choose to strip the entire deck of its' current deck stain and start the whole deck staining process over again. We use effective wood deck stripping agents so excessive water pressure on your wood deck is unnecessary.
Exotic Hardwood deck boards?
Do you have exotic hardwood deck boards such as Ipe, Mahogany, Douglas Fir, Alaskan Yellow Cedar, or other exotic wood decks? You may require a vastly different deck staining process than those with regular or pressure-treated wood decking.
These exotic hardwood decks require a different preparation process from pressure washing and sanding to the types of cleaners that are used. Exotic hardwoods deck stains differ and so do the corresponding stain application methods. Application schedules vary also depending on the wood you have and the time between applications.
Oils and stains also vary for exotic hardwood decking. For mahogany you have Australian Timber Oils and Sherwin Williams exotic hardwood stains. There are oils and cleaners specifically for Ipe decks and varnishes also specifically for wood such as a Douglas Fir wood.
Appalachian Deck Staining and Painting Services will provide you with an honest and professional assessment of you wood deck and composite decking needs. Please feel free to call us at (610) 937-8422 with any questions or concerns or if you would like to schedule an appointment to have your deck looked at please don't hesitate to Contact Us.
If you are looking for high-quality and affordable deck finishing and deck staining Paoli, Pa or surrounding areas we can help.